Moving To Western Australia (WA)
Information for if you're relocating to Western Australia (WA)
Quick Quote
Western Australia Introduction
Western Australia is a beautiful part of Australia, with long beaches, huge national parklands and cities full of character. Despite being the largest of the Australian states it has just over 10% of Australia's total population with 2.589 million people living there. It is a vast area with most of the state uninhabitable.
Perth is WA's biggest city and contains most of the state's population. It is a growing city, with a bustling business district and growing nightlife. It is the sunniest city in Australia with long sunny days all year around. It's also one of the most isolated cities in the world with Adelaide being the closest major city which is over 2000km away.
The Western Australian lifestyle is very relaxed with some of the best wine and beaches in the world. People are generally very welcoming of fellow Australians and people from abroad and will happily invite you over for a BBQ on the weekend.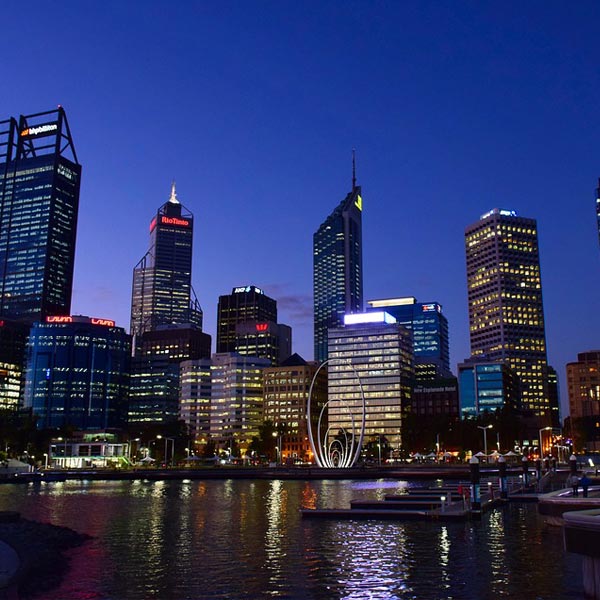 Western Australia Relocations
As most major Western Australian cities are far apart and ages away from other major cities, many people use removalists to move their belongings the huge distances from various cities. Perth, for example, is over 2000km away from the closest major city Adelaide and moving from Sydney is under 4000km.
Palmers Relocations takes the stress out of removals by offering a full removal package to make sure your removal is stress-free. Call us today for more information about our interstate removal packages.
WA's Climate
Western Australia is about half the size of Europe. That being said, there is a huge variety of climates across this enormous state. From Mediterranean like the weather in Perth and the west of the state to tropics in the north and hot deserts in the east. It's safe to say, you can find almost any condition in WA, except snow of course.
The hottest months in Perth are January and February with average temperatures of 25 degrees had highs of 31. The colder months are around July and August with an average of 13 degrees and lows of 9.
One problem that comes with the weather is the number of files and mosquitos. In the summer months, you can be sure you'll have to swat away flies when you're out and about.
Working In Western Australia
However, it can also be a great place to live and work. Despite what many people believe there is not a labour shortage in Western Australia, but rather a skill shortage. Many skilled workers are still able to get jobs in a number of mining and engineering companies. Whilst the mining boom is slowing down in WA, there is still a need for skilled workers. Less skilled mining work, however, will be harder to come by.
Job opportunities are not limited to mining, however, as Perth itself has a bustling business district, large shopping areas and a variety of bars, pubs and restaurants.
Cost Of Living In Western Australia
The cost of living in WA is similar to most of Australia's states in that the closer you live to the city the more expensive it gets. Generally, the cost of day to day living will be cheaper than in NSW or Victoria. Perth has much cheaper housing than its eastern counter parts but is still not considered to be overly cheap in the grand scheme of things.
During the mining boom, there was a housing shortage in some remote areas, with cheap housing often selling for over one million dollars. Now things have evened back out and housing in remote mining towns have declined in value.
Top Things To Do In WA
Visit Ningaloo Reef and swim with the whale sharks
Explore wave rock
Drink wine and eat wonderful food in Swan Valley or Margret River
Walk through Kings Park & Botanic Garden
Spend a few days exploring the Kimberly (and visit the must see Horizontal Falls)
Swim at Cable Beach in Broom
Look through history at the National Anzac Centre
See where the convicts were sent to Fremantle Prison
Take a balloon flight over the Avon Valley
Where Is The Best Place To Move To In Western Australia?
Where you move to depends on what you're looking for in a new city or town. Perth is the biggest city with just over one million people living there. So, while it's the biggest, it's still small compared to most cities. So, if you're looking for work Perth would be the most likely place to find it.
If you moving to WA to go into mining, then there are usually a number of towns around and near the mines that you can consider. While they might not be the fanciest of places, they will be close to work.
Broome is much further north and is close to the famous Kimberley region. Often seen as more of a holiday destination, it could be a great place to move for hospitality work or to have a permanent holiday. Be warned though, the average temperature in summer is 30 degrees with lows of just 27.
Top Cities By Population
Perth
Rockingham
Mandurah
Bunbury
Kalgoorlie-Boulder
Geraldton
Albany
Kwinana
Broome
Busselton
Call 1300 363 916 for a free quote