Congratulations! You are moving overseas! It is a new start in a new country. So exciting! But how does it happen? Where do you start? What are the right questions to ask?
First things first. You won't be moving on your own. You will probably organise trusted removalists who will take care of the move and the moving requirements. Second, moving overseas is not cheap and it will require preparing for the upcoming cost, which leads to the next point – planning. Do not leave the moving process to the last moment. It is possible to organise the last moment move, sure, but there is always something you will be compromising on. Better start early.
International Removal Company
Take your time and do your research. Make sure the removalist company is accredited and is a member of moving associations like AFRA, IAM or FIDI Global Alliance. It will ensure implemented service quality and procedure standards. Having a global network and years of experience in the industry will give you the peace of mind that the company has moved clients many, many times before, has experienced various scenarios and can solve any issues in case anything occurs. Trusted removalists will ensure your household items get clearance by customs and duties and arrive at your destination safely. Read reviews, get quotes from multiple companies, call the shortlisted removalists and talk to the consultants. They will be able to provide you with the necessary information about the move and it will help you make a decision about whom to trust and choose for your move. Deciding purely based on quotes leaves a lot of information out of consideration. For example, by asking what is included in the Door-to-Door move, you may discover the offer may vary between the removalists. While the cost for one can seem higher, it can include services that the other one does not and can be a better value. Also, remember that your move manager will be your direct point of contact and will guide you through the moving process. Starting from signing the acceptance form, filling out the required documentation and insurance form, and organising your uplift and delivery. Having a professional and experienced removalist will allow you to relax and focus on the arrival and other tasks knowing that you will be taken care of.
How much the move will cost?
Moving abroad can get very expensive. Every move is unique and will have different requirements even if some variables are the same. Firstly, the cost will depend on the distance – moving to a neighbour country or across the globe will be very different –  and the volume of your belongings. Comparing 2 bedroom apartment with 4 bedroom house with a garage and shed shows the amplitude of how different moves can be. Similar ta car insurance, many clients choose to insure their belongings when moving. Even if removalists have done everything perfectly, there is always a possibility that something may happen while the container is on the way to the port, on the vessel or being processed in ports. Having transit insurance assures you are being protected in case of an accident.
In addition, many removalists offer additional services like exit cleaning service, valet unpacking service and, vehicle or pet transportation to ease or improve the relocation experience. All of these services will affect the overall cost. The best suggestion is to talk to your removalists, explain your moving requirements and see what is the best solution for the move, what would be the estimated budget or offer a different solution and "make it happen".
What can I do to reduce the cost?
Although the global pandemic has eased, the shortage of containers and vessel delays are still affecting the industry. Shipping costs have increased significantly in late 2021 and 2022. There is a high possibility that quotes from removalists are higher than expected. There are however a few steps to reduce the shipping costs to match your budget.
Downsize
When living in one location for some time, it is easy to accumulate items that are not being used anymore. Instead of taking them along, discard items that can't be reused, donate to your local charity or give to friends or family the ones that would add value to their lives. Maybe there is something you know you won't use anymore or will replace soon. In that case, it might be worth selling and purchasing a new one at your destination.
Declutter
We all have old magazines, paperwork, and old school notebooks that take up space but aren't used anymore. Similar to clothes that don't spark joy anymore. They get moved in the wardrobe but never get picked. If you haven't used the particular item for a whole season, there is a chance, you never will and it is time to free up the space.   You will be surprised how much space can get freed up by decluttering and downsizing.
It is understandable to be confused and not know what to bring along. What is essential and what is not. At the same time, remember you can purchase anything you need either locally or order online and get delivered to your doorstep.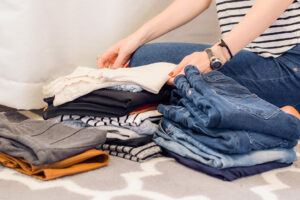 Important Things to Organise Before Relocating Overseas
Prepare Financially

start saving for the move

removals
rent and bond at the destination
plane ticket
insurance

research the average cost of living in your destination country
familiarise yourself with local currencies
budget your expenses

Research your destination
Renew your passport
Apply for the correct visa
Organise your health insurance
Purchase a plane ticket
Get your documents in order:

bank details
insurance policies
dental and medical records
educational qualifications and notarial translations (if applicable)
birth certificate
make copies of important documents (just in case)
medical prescriptions (if applicable)
do you need special vaccination?

Decide and organise the living arrangements
Make a to-do list for the week of arriving

accommodation,
rental & utility bills
move in
setting up a local bank account, and transferring funds.
taxation office
familiarise yourself with public transport and plan routes to locations you will visit on daily basis.
find a local supermarket

Prepare a priority box – in this box include items that will make your first moments after move-in easier. Priority boxes can include items like a kettle, mugs, cutlery, WC paper, set of towels,    sponge and more. Contents can vary depending on each individual needs and requirements.
After you have moved, make sure you cross-check all of your boxes/items with your removalists to make sure everything has arrived safely. Once it's done, take your time, relax, and go and explore your new neighbourhood. It's been an overwhelming period, it's time to be adventurous and experience more positive emotions. Enjoy the time of unpacking and settling into your new life.
We hope this article helps to start the moving process and ask the right questions. If you have any questions regards the moving process, enquire with our experienced team.