Excited and ready to move to Canada? Why wouldn't you be? It is a wonderful country with breathtaking landscapes and a unique culture you need to experience first hand to fully understand. People in Canada are considered the nicest in the world and will make you feel at home.
Then there is the delicious Canadian food which we could write a blog about all on its own and if you haven't experienced a live ice hockey game, make sure to place this on your bucket list!
Now, before moving to Canada, check out these 10 things you should know before moving to Canada.
Size of Canada
1. Size of Canada
Image source: mylifeelsewhere.com
When relocating from Australia, most other countries can seem small in comparison. With an area of 7.692 million km², Australia is the 6th largest country in the world. You could fit Europe into Australia as an example. 
Australia is 32 times bigger than the UK and 1.2 times bigger than India. Well, be prepared because Canada is 1.3 times bigger than Australia and is ranked the second world's largest country after Russia.
Another interesting fact: despite their size, both Australia and Canada have pretty much no borders. Indeed, Australia does not have any borders with another country as it is an island. Canada has only one border of 8893 km with the united states (including Alaska). And if you did not know, Canada is "the world's largest country that borders only one country" which is the United States.
2. Official languages: English and French
Canada is one of the 101 countries that recognise more than one language as an official language. Indeed, English and French are the official languages in Canada. Canada is a bilingual country as a result of its past history.
Long story short. French explorers were the first to visit Canada and settled in what is now the Quebec province (dark blue in the below image). Then later, the Treaty Of Paris transferred Canada from France to the British Kingdom. While Canada has been transferred to the UK, French speakers kept their habits and customs in Quebec province, which has led to a bilingual country where English and French are now official languages.
3. Different Seasons, Especially Winter
When moving from Australia the change of climate can be a cold surprise, especially in winter.
The first thing to remember is that Canada and Australia have opposite seasons. This is due to the fact that both countries are located in different hemispheres; Canada in the northern hemisphere, Australia in the South.
In terms of seasons, you can experience in Australia either a tropical climate, a temperate climate or arid weather, but none of these will be really cold.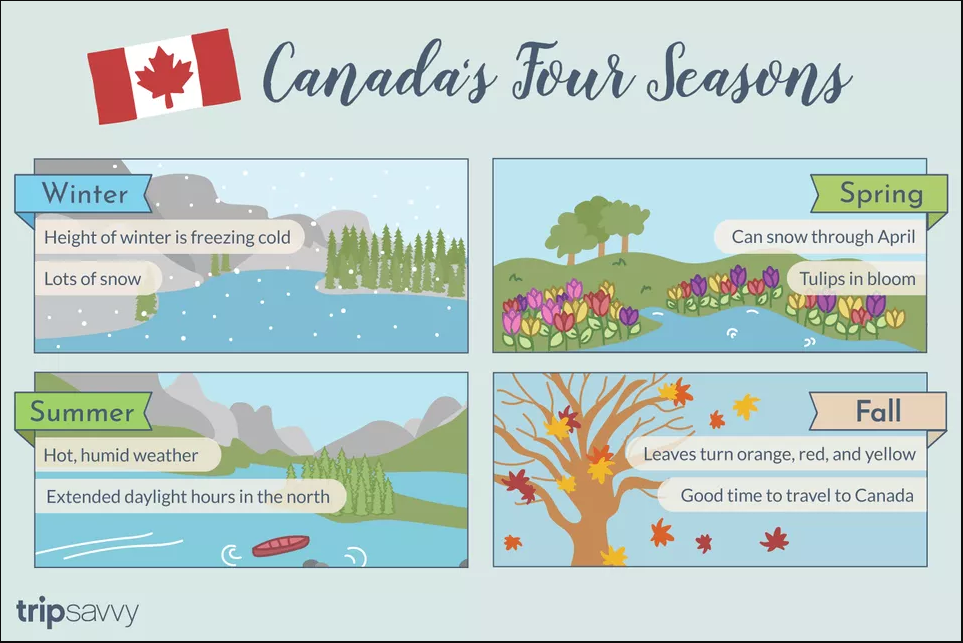 Image source: tripsavvy.com
On the other hand, Canada has 4 distinct seasons. They are characterised by a cold winter and hot or humid summer. All along the year, the temperature can fluctuate anywhere between -40C in winter to +40C in summer. You might be used to the hot weather but be prepared for the cold winter. Indeed, winter is cold in most places in Canada even in big cities. And it is not rare at all to have snow during wintertime. Another characteristic of the Canadian winter is that it can be longer depending on where you're based. It usually goes from mid-December to mid-march / early April. In conclusion, it's important to adapt your wardrobe when moving from Australia to Canada to avoid any surprises.
4. Canadians do Not Drive on The Left Side
Driving in Canada can be another surprise. Not because they drive badly, but because Canadians don't drive on the left side of the road as in Australia.
It's a little strange to get on the other side of the car. Same thing when you take intersections and roundabouts. The first few days, you have the feeling to do something wrong. The other funny thing is that all control levers are also reversed. In the beginning, you will likely turn the windshield wipers on when you wanted to turn the indicators on, and opposite. But don't worry, the more you drive the quicker you will be used to it. To be honest, it is not that hard to drive on the right side of the road.
To conclude, your home country driver's licence is recognised in some parts of Canada. However, it is recommended to check the provincial regulatory to be sure you have the right information before driving.
5. Tim Hortons. Tim Who?
It's now time to talk about food, actually fast-food. You will find Maccas, KFC and more in Canada but Tim Hortons (or Tims) is the most famous one.
Tim Hortons is the biggest fast-food chain in Canada with around 4,268 stores launched 50 years ago. It is known to serve tasty coffees and snacks at a good price. Some find it tastier than other fast-food chains. 
Through the time, the chain became famous for their doughnuts. You will have to try them and make your own opinion.
6. They Love Poutine Dish
Poutine is a Canadian dish originally from Quebec late in the 1950s. It is composed of french fries and cheese curds with brown gravy on the top. It sounds weird at first, but you should definitely try it. In Canada, you can find it everywhere in fast food and restaurants, even in food trucks. You can also make it at home with this recipe.
At first, Poutine was not as famous as it is now. It is actually the opposite, according to the story, for a long period the "dish was mocked as a culinary invention and used as a means of stigmatization by non-Québécois against Quebec". It is only later that Poutine became famous outside Quebec. Today it is also called "Canada's national dish" and can be found outside the Quebec province like in the USA and New England for example. So, make sure to try it at least once to make your own opinion. That being said, you cannot miss the famous maple syrup. It can be found literally everywhere and can be eaten with a wide range of food such as pancakes, ice cream, bacon, salad and way more.
7. They Like All Sports but Mostly Ice-Hockey
Canadian is a nation who like many sports including basketball, baseball, football and much more. Yet, if you're not familiar with ice-hockey, it's time to catch-up. Indeed, ice-hockey or simply "hockey" is the most famous winter sport in Canada. It has also been part of the Olympic Games since 1920. In 2018, the National Hockey League (NHL) "playoffs were viewed by about 68% of the Canadian population" which proves the popularity of the game.
8. Learn the Canadian Slang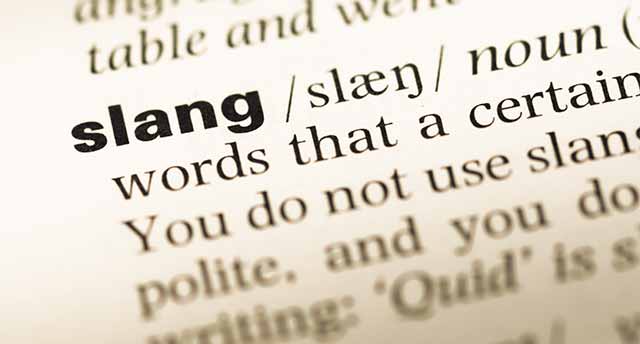 Australia is known for using a lot of English slang, but Canadians love slang too. You'll need to learn a few new terms in order to melt away into the masses and become a real Canadian.
Businessinsider.com.au has listed 28 slang words that as Australians you might not get, here are a few examples:
Mickey: A 375 ml bottle of alcohol
Chirping or beaking: Making fun of someone.
Chesterfield: A couch or sofa
Two-four: A case of 24 beers
Timbit: A doughnut hole from Tim Hortons
9. Prices are GST Exclusive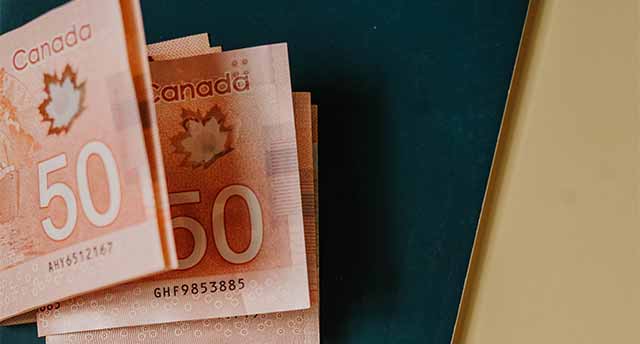 You can get this impression that everything is cheaper when moving to Canada because Canadian prices do not include GST. This means you'll need to be careful while shopping or even at restaurants to avoid any surprises on the final prices. All the taxes will be automatically added at the cash register. 
Also, keep in mind that all provinces do not have the same VAT or GST. For example, you have a Federal Good and Services Tax (GST) of 5% applicable in all areas. In addition, most provinces apply "provinces sales tax":  This provincial tax varies between provinces as below:
Quebec: 9.975%

Ontario: 8%

Alberta: 0%

British Columbia: 7%
In conclusion, you're going to need to get used to mental calculation.
10. Health Care System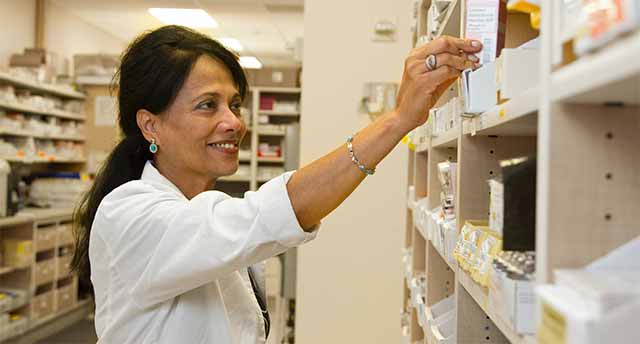 Australia has 11 reciprocal health care agreements all around the world. Sadly, Canada is not on the list. However, Canada has a great publicly funded health care system, also called 'Medicare" (if you are a citizen or a permanent resident)
So, if you're moving to Canada as a permanent resident, you will be covered for most of the expenses. Indeed, Medicare covers most of the basic care. The remaining part will have to be covered by private health insurance. For example, private health insurance will cover you for drug prescription, dental costs etc… They can be offered by your company and taken directly by you, however, they tend to be relatively expensive. You will need to investigate and search with options that suit you the best.
Unfortunately, the drawbacks of public services are the waiting time which can be long, really long.
The Canadian health system may not be perfect, but compared with other systems, the health care system still ranks very well.
11. Bonus: Moving to Canada With Palmers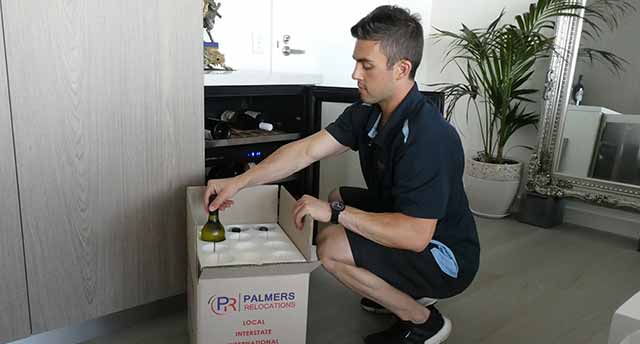 In this article, we've covered a few fun things that you should learn when moving to Canada. But, if you're looking to move permanently and want to relocate your household goods and personal effects, this bonus section is for you.
Palmers Relocations offers a complete service for every step of your relocation journey. We can offer shared containers options for smaller shipments as well as 20 and 40ft container options for full households and motor vehicles. 
You will be entitled to a GST exemption on used personal effects as well. As a general rule, all items should be owned and used 6 months before shipping to ensure duty-free entry and you must be in Canada when your goods arrive to be cleared.
To get more information and plan your move to Canada, contact our team today for an obligation free quotation.