You've decided to move to Europe and more specifically to Italy to live 'la dolce vita'. It's an excellent choice: the country is notably known for its climate, beautiful cities (such as Venice and Rome) and artists like Michaelangelo or Botticelli to only name a few. You want more? Don't worry, there are many things to enjoy in Italy including culture, nightlife, football, great food and wine. In this blog post, we are going to walk you through the unmissable things to know for your move to Italy from Australia. Let's get started.
1. Enjoy Mediterranean Climate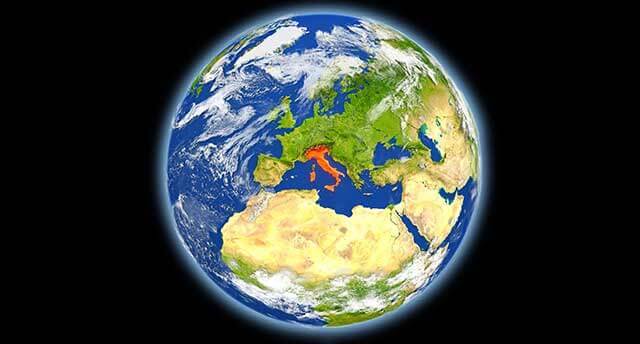 Italy is one of the southernmost European countries, located in the Mediterranean Sea. The country is known for its mild climate. While the Mediterranean climate is the most widespread in Italy, the region you are relocating to will determine the weather you can apprehend. We count three main regions:
Northern Italy: located between the Alps and the Tuscan Apennines is the coolest area of Italy with sometimes up to -14 C during the cold seasons of the year. You can handily go skiing in the Italian Alps all along winter.
Central Italy: This area covers the centre of Italy including the Capital city Rome. You can expect a moderate to warm Mediterranean climate. On the other hand, in winter it occasionally snows.
Southern Italy: It's the hottest part of the country. Summers are hot and dry with less than 300 mm of rain per year. Additionally, in the Apulia region, the sea temperature in August can reach up to 27 C.
2. Gorgeous Beaches at a Cost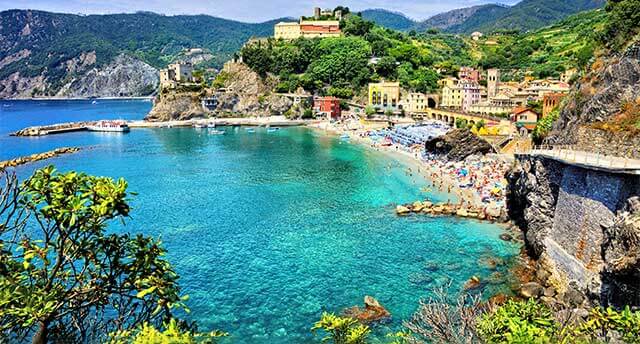 The Italian peninsula offers a stunning 7,782 km coastline. It has one of the most exciting marine environments and gorgeous beaches. Speaking about beaches, when moving to Italy, access to beaches can be a -big- shock. In Australia, they are free to use and you don't even think of paying to enjoy a nice day on the beach. Well, in Italy it's different. You have private beaches and free beaches.
So, you need to know the difference and what to expect.
Private Beaches or 'Stabilimenti Balneari' or 'Bagni' in Italian: They are places that you rent for a few hours to a month. Your rent includes things like a lounge chair, beach umbrella, etc. In addition, with private beaches, you have access to facilities such as showers, toilets, a bar and sometimes other equipment. Last but not least, swimming is monitored by lifeguards.
Free beaches or "spiaggia libera": Signs will generally guide you. They are accessible via a path through the private beaches. The free space is usually located in front of the lounge chairs. Unfortunately, as they are free of charge, you don't have access to the above facilities, even the shower.
One last thing. Beaches are not always made of sand as you can find in Australia. It's more like gravel and sometimes they are made of rocks.
3. You'll Love Italian Food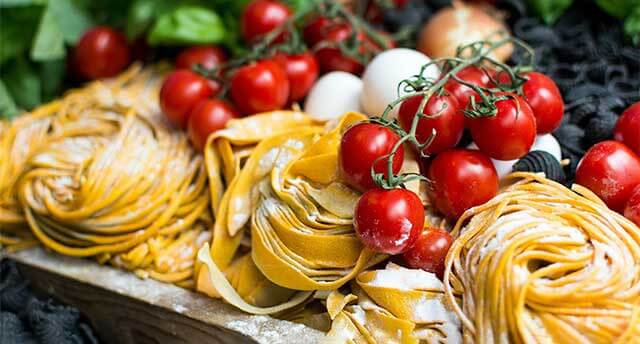 Italy is also known for its food, especially dishes like pasta, pizza, ham, cheese and great wines. Each region has its personality and own specialties.
That being said, we hope you like pasta. Did you know that 63% of Italians eat pasta almost every day? It's an average of 23.5 kilos of pasta per year.
What about pizzas? Well, at the risk of disappointing you on a per-person ratio, Norwegians eat the most pizza in the world. Italy arrives at the 5th place after the US, the UK and Germany. Don't worry however, pizzas are still an Italian famous dish that you'll find everywhere.
Moreover, Italy is also famous for some of its cheeses. The most famous is probably "Parmigiano". Finally, Italy does have some of the oldest wine-producing areas in the world like Toscana for example.
Of course, we cannot restrict Italy to its pasta, cheeses, pizzas and wines. The country has much more dishes to offer such as this list of 15 dishes that you must try when moving to Italy.
4. They Love Coffee
Coffee is important to Italian culture and lifestyle. So much so that 97% of Italians drink at least one coffee a day and whilst the Italians did not invent coffee, they do boast the oldest Cafe which opened in 1716.
Australia has at least 13+ different types of coffee which is already huge. But when moving to Italy, you'll see that they have up to 50 different ways to drink coffees.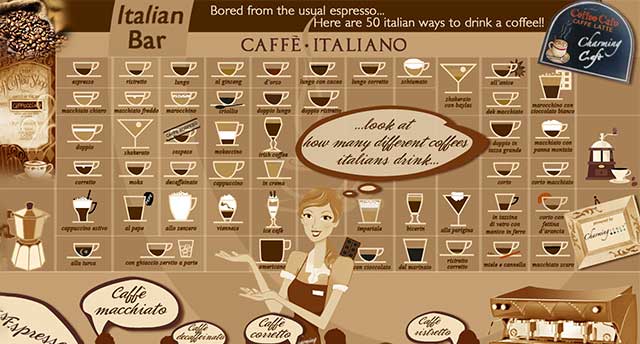 Image source: charmingitaly.com
Eataly.com also explains the types of coffee you drink and varies depending on the moment of the day. For instance, you start your day with a cappuccino. Then in the afternoon, you drink a Caffe Macchiato and after dinner an espresso (yes, an espresso).
Finally, the last precious tip: Do not order a cappuccino after noon. It is typically a tourist habit as it is reserved for mornings.
Now that you know everything: Buon caffè!
5. The Italian "riposo"
Now that you've eaten, it's time to talk about the Italian nap. Southern Mediterranean countries are known for their traditional nap in the hottest hours of the day. In Italian, it's called "riposo" which means "extended lunch break"
Traditionally, the Italian nap was between 12-1:30 pm to 2:30-4 p.m, when museums, churches and shops were closed. This time was dedicated to family and resting. Nowadays, most Italian shops don't close for several hours. If workers do not live too far from work, they go home for lunch and maybe for a short nap.
6. No Gratuity at Restaurants/Bars, etc.
When moving to Italy, make sure to know it's not expected that you tip at bars and restaurants. While it is not expected, you still can. It's always welcome if you appreciated the service and/or food. However, waiters/waitresses won't (normally) wait for it. Here is the explanation.
Originally, tips were used to pay workers with no monthly salaries. This is still in use in several countries around the world. In contrast, in Italy, workers have a monthly wage. In addition, a "service charge" may be added to your bill. Most of the time, it is indicated on the menu and corresponds approximately to 10–15% of your bill. Finally, venues sometimes round up the bill. For example, if the amount is 38 or 39 euros you'll probably pay 40 euros.
To conclude, gratuity is not expected in Italy. However, before deciding if it is or not necessary to tip, check here how and how much you should leave to your waiter/waitress.
7. Know and Learn the Habits
Some habits are different from ours when moving to another country. Therefore, we may find others rude as they do not act or react the way we would in our home country. For instance, French people are seen as rude. Although we reveal in this article that it's often a misinterpretation. Here are 3 things that you may find rude but that are part of the Italians habits:
Queuing and queue-jumping: It's probably the most irritating habit. In Italy, they do not wait in a tidy queue. In addition, they are adept of the "queue jump" as explained by Rossi in her article.
"I want": it sounds surprising at first when Italians use "io voglio" which means "I want" when asking for something, and not 'Could I get …'. However, the translation is rougher than the expression is. Thus, if you hear "io voglio", don't get offended. It's totally normal.
They speak aloud: You may have the feeling they speak loud however, there is a scientific explanation. The article of the Guardian explains that "Italians are only perceived to be loud because of their language: it's vowel-based, requiring the vibration of vocal chords – hence its melodious quality and aptness for opera. Unlike English, Italian has no reduced vowels."
8. All Roads Lead to Rome. Really?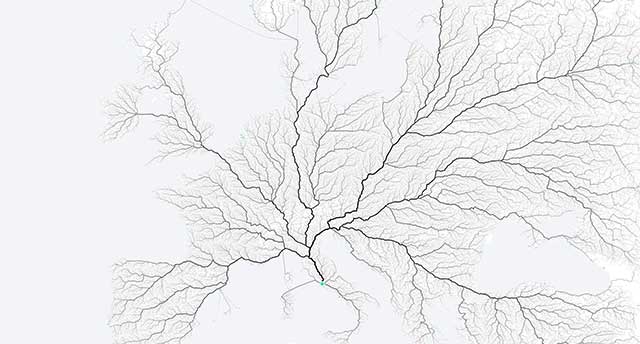 Image source: move-lab.com
Have you ever heard of this expression "All roads lead to Rome"? The definition of Wikipedia says it is "Different paths can take to the same goal". But the use of the adage is older. In the Middle Ages, it referred to all routes leading to the Italian capital Rome. Is it actually true? Surprisingly, yes, all routes lead to Rome.
Moovel Lab's Benedikt Groß, Raphael Reimman and Philipp Schmitt have created a map showing that all the roads actually lead to Rome. The main reason was to connect all the major cities of the Italian Empire (who at times was huge).
A mysterious elucidated.
9. It's a Catholic Country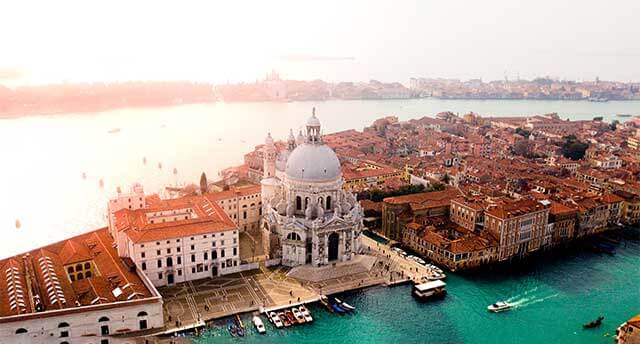 Religion and especially Catholicism have a strong presence in Italy. For instance, Italy has more than 64,000 churches and around 1,000 of them are in Rome. This is not surprising when we know that 96% of the population was baptised as Catholic. In addition, the Vatican City is located in the heart of Rome where the Pope lives. Churches and cathedrals are magnificent and most of them can be visited such as the Florence Cathedral or the Basilica di San Marco to name only a few. It's a must to visit in Italy.
10. The National Sport: "Calcio" (Football)
Football (Calcio in Italian) has fans all around Europe. But trust us, Italians are the most dedicated and passionate fans about their teams you'll ever find. To give you an idea, with more than 4,363,000 people playing every year, football is the most popular sport in Italy.
The reason for this passion probably comes from its history. Indeed, other forms of soccer were played in Italy in ancient times. Then, the empire extended throughout what is now Europe and has probably spread the tradition.
Get ready to watch and live matches. There are so many occasions to follow one of the many tournaments.
11. Moving Long Term to Italy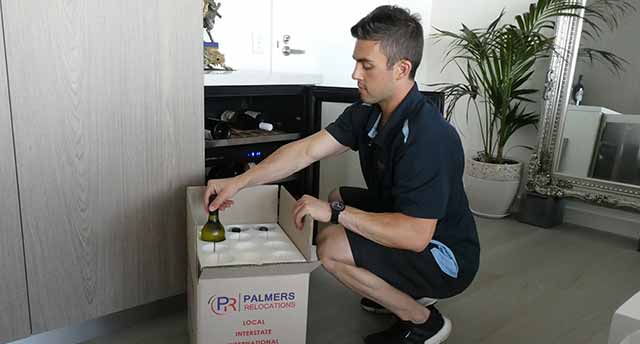 There are several things to know before moving to Italy. If you need to visit Italy before making your move, you can get a visa that allows you to stay up to 90 days. However, you must get a "Permesso di soggiorno" (permit to stay) "within eight working days of the foreigner's" if you plan to stay for a long period. This visa lasts between 2 to 5 years.
Finally, it is important to plan in advance your relocation to Italy with a removal company that can guide you all along the process. Here at Palmers Relocations, we have the experience to move you everywhere in Italy. We offer both full and shared containers based on your needs. You may be exempted from taxes when moving to Italy, depending on the type of goods you are importing and for how long you process them. For more information on the relocation process and what it involves, feel free to contact your friendly team.