You are moving to France or you are already in the country, either way, it's a great choice. France is one of the most popular countries in the world and definitely the most visited with 90 million visitors in 2018. The country is famous for its cuisine and architecture. But France has much more to offer including beautiful mountains, beaches, chateaux, countryside living and dynamic cities throughout.
When moving to France, there are a few things that you should know as an Australian ex-pat living a new life in France. In this article, we have gathered 10 things you may do when moving to France. Let's jump in!
#1. Look at Other Cities Than Paris
People tend to see Paris through the lens of magazines and movies which put the city in its best light. But Paris is crowded. Did you know that 2.2 million people live in Paris for a size of 105 km2 whilst 4.8 million people live in Sydney, but it's 155 times bigger (12,144 km2). The population density is 21,369 people/km2 for Paris vs 395 people/km2 for Sydney. If you like large spaces, you may feel a bit oppressed.
You might want to look at other cities, whether you like urban, rural, coast, beach, mountains or forest; France has something to suit everyone. If you want to discover more places, home hunters provides a list of 12 alternative great cities to live. You'll undoubtedly find something different to suit your needs.
#2. You Can Travel Everywhere in Train
The good thing when moving to a country 14 times smaller than Australia and not being an island is that you can take a train to travel everywhere in France and across Europe. In France, the train is a convenient and economical way of travelling. It covers the vast majority of the territory with more than 29,213 kilometres of usable lines listed in 2007.
Also, you may not know, but France has the TGV. It is the Train à Grande Vitesse, "high-speed train" launched in the 80s and still in use today. This train can travel up to 300 km/h and was for a long time the fastest train in the world. Typically, with trains running at this speed, all the major cities in France and Europe can be reached in a couple of hours.
If you want to travel by train, you'll need to book online. It's the easiest option as it can be confusing to select the right date depending on your budget as prices are dynamic like airlines. Then you'll have the possibility to choose between the first or second class (only for long-distance trains, not intercites or TER). The main difference between both options is the size of the seats and some extras. In first-class, seats are wider with more room for your legs. In some TGVs you can have a plug socket and even the WIFI. One last thing, before onboarding, make sure to punch your ticket otherwise, you'll be fined for travelling unlawfully.
#3. Don't Drive as You Drive in Australia
35% of the world population drive on the left and these countries are for most of them old English colonies. However, in France as well as in Canada people drive on the right side of the road.
When you drive for the first time, you might enter your car from the wrong side. Yes, everything is reversed: the driver's seat becomes the passenger's side. It might also feel different on the road but don't worry, you will rapidly be used to it. Before getting on the road, 2 more tips:
You'll need to be careful with the speed limits. Sometimes, there are no signs when you enter a city/town/village, etc. except for the name of the city. This is because this sign operates as a 50 km/h sign. Also, freeways are limited to 130 km/h which is rare in Australia.
Red lights: it's common in Australia to drive through an orange light. In France, you must stop when the light switches to orange. Otherwise, you'll have a minimum of 4 demerits points and a fine of 135 euros.
#4. One of the Best Healthcare Systems in the World
The French health system is known for its incredible effectiveness and to be inclusive. It is actually recognised as one of the best healthcare systems by the World Health Organisation.
First, it's a universal system that covers everyone regardless of age, revenue or any other factors. In France, you'll be covered by the healthcare system after 3 months of residence or work. Even if you are not covered yet, in the event of an emergency, France offers emergency access to everyone. Comparatively in Australia, you are only entitled to Medicare if you are an Australian Citizen or Permanent Resident (you are not covered for temporary worker visas, etc.).
However, the system is often criticised for the long waiting periods that can vary between 6 to 80+ days. This is particularly true in some cities such as Paris.
#5. Perfect Your French Before Your Move
While France is the most visited country in the world, that does not mean people speak English. Only 39% of the French population speaks English according to the Eurobarometer report 2012.
If you move to big cities or tourist areas, you should be able to find someone who will help you. However, in smaller cities or rural areas, it might be harder to find someone fluent in English.
This means when you move to France you should know the basics. Being able to handle a conversation will help you with your everyday life. In addition, it will make you less rude and facilitate your integration with the locals. People appreciate it when you try to speak their language even if your French is not perfect. Besides, they like the English accent and Australians in general.
#6. They Love Bread and Boulangeries
There are a few myths or cliches about French people, things like wearing berets or being rude. But trust us, they do love bread and boulangeries (bakeries).
In France, we count around 35,000 boulangeries. It is 1 bakery for every 2,000 people. The most incredible figure is that in France more than 6 billion baguettes are produced every year. No, it is not an error, 6 billion baguettes. In addition, according to the newspaper "Le Figaro" 95% of the French eat bread at least once a day.
So yes, they love bread. The most famous bread is "baguette". However, bakeries have a plethora of different types of bread. Depending on the ingredient such as the type of flour, the method used, the time in the oven, and the region of France, you will find different shapes and taste of slices of bread.
#7. Become Accustomed to French Food
This is definitely not a myth or stereotype. Food occupies a huge place in the life of French people and they like to eat (including bread as mentioned above)
Most of the meals have several courses when people have time to eat during the weekends or at nights. French people like to finish meals on a sweet note. Don't be surprised to see them eating yoghurts at every meal, for example.
One last thing. If you are new to the French workforce don't be surprised at lunchtime. Most of the companies offer a 1-hour lunch break. Is it not rare to go out and sit on a terrace or in a park for lunch. Most of the restaurants have a special meal for lunch, which is quick and cost-effective.
#8. Work Environment: Holidays and Working Hours
When you move to France for work, you will experience a whole new work culture. For instance, all French workers have 5 weeks of paid holidays per year. They all must be taken within a year. Which means that you can't work for 2 years without taking any holidays, for example. In addition, you will have around 11 public holidays every year. Unfortunately, those who are on Sundays are nor moved to Monday's as in Australia.
French work long hours. Normally, a full week is 35 hours per week. However, it's not rare to see people working 39+ hours per week. A typical working day is 9 a.m. to 6 p.m. or even later.
One of the things you'll learn is that there is no "flat" hierarchy in the workspace. You have to be attentive to whom you speak to in order to avoid conflict with your colleague or managers.
#9. French do Not Huge to Say Hello
This advice will certainly avoid putting yourself in an awkward situation.
In Australia, when you meet your family, friends or someone close to you, you often greet them with a warm hug. But you do not kiss cheeks (faire la bise). In France, it's the opposite. As a greeting, they kiss cheeks rather than hugging. Many foreigners will find it uncomfortable and strange. Also, there is a slight difference in the way you say hello to men and women and if they're friends, colleagues or strangers.
For formal greetings, make sure to handshake either a man or a woman. It is accepted to kiss chicks your colleagues at work as long as you know them well enough. On the other hand, men will find it inappropriate and will prefer handshakes. Finally, for your friends, you can "Faire la bise" to women and men depending on how close they are. However, whatever the situation is in France people do not "hug" as Australian do.
Of course, during the COVID-19 pandemic, the social distancing needs to be respected.
#10. French Are Rude. Really?
I'm sure even before you move to France you have heard that French are rude. Is that true?
When you live in big cities, it is more impersonal because of the number of people. In these cities, people tend to think more about themselves than their surroundings. On the other hand, in smaller cities, people tend to know each other and offer a more personal relationship and vibe.
That being said, other things such as politeness, respect and culture are also important to factor in. For instance, you must speak French even if it is only a few words. People will find you rude if you do not try to speak their language as noted earlier. You will find the French to be far from rude and actually quite the opposite really.
#11. Moving to France With Palmers Relocations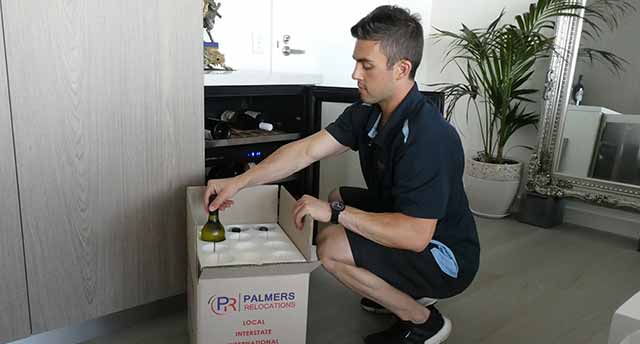 In this article, we've covered a lot of things to prepare you for moving to France. If you're looking to move permanently and want to relocate your household goods and personal effects, this last section is for you.
Palmers Relocations offers a complete service for every step of your relocation journey. We can offer shared container options for smaller shipments as well as 20 and 40 ft container options for full households and motor vehicles.
To get more information and plan your move to France, contact our team today for an obligation free quotation.