Palmers Relocations Services to Singapore
Our international relocation services to Singapore include:
Door to Door service
Shared Container Options
Direct Shipments
Sea & Air Freight
Car Transportation
Fixed Price Quotation
Get your free quote today and get a full international relocation to Singapore.
---
Overview
The Republic of Singapore, also known as the Little Red Dot is a very small Southeast Asian country that is a global leader in business, innovation and human development. It is a collection of 63 islands situated between Indonesia and Malaysia with a total land mass of 720km². It is known for its tropical parks, urban landmarks and food culture.
Singapore As An Expat Destination
Singapore was named in 2016 as the best expat destination in the world for the second year in a row. And the reasons will have you smiling. Most people said they were earning more after moving to Singapore. Other reasons were the education system, extremely low crime-rates, and people even reported their health improving after moving to these islands.
Singapore is a society that values safety, prosperity and family. If you would like to get away from some of the less pleasing parts of your current situation then Singapore is a perfect place to move.
Top Singapore Suburbs For Expats
Orchard – One of the more popular choices it includes key shopping districts and a central suburb of Singapore (Orchard Road, Bukit Timah, Holland Village, Tanglin).
Central – Central contains Singapore's CBD along with City Hall, Little India, and Marina Bay areas. Central is likely the most expensive suburb in Singapore.
Woodlands – 40 minuets away from the hustle and bustle of the city this area still has everything you could need to live comfortably and is a major centre of Singapore.
East Coast – Close to the sea, airport and with a number of green spaces, the East Coast is often seen as a very family friendly area of Singapore
Sentosa – For a high end option Sentosa offers villas and condos right on the water. An island itself, it could be compared to the homes of Sydney Harbor.
Language
Singapore is a country with diverse ethnic influences, and it actually has four official languages. These are: Malay, Tamil, Mandarin and English.
But the main language used in Singapore is actually English. The street signs are written in English and most people can speak it. Thanks to the education system, English fluency is rising rapidly.
As an English-speaker, you will be at home in Singapore, but it is still interesting to visit a country in which multiple languages and language-mixing (creolisation) have been such a part of its history.
Climate
Singapore has a tropical rainforest climate. Expect a lot of sunshine but also a lot of rain. When you step out of the plane in Singapore, you will be hit by this wall of humidity. It's that humid. Many people love this tropical weather.
Temperatures are usually between 20–35°C. And one thing you need to know about is that the seasons are different to Australia or most other non-equatorial countries. Singapore only has two distinct seasons: one dry season and one monsoon season from November to January in which significantly higher rainfall and stormy weather conditions are sometimes present.
Cost Of Living
When you move to Singapore, you will get a pleasant surprise every time you buy consumer goods or pay rent. The cost of living in Singapore is a degree lower than in Australia (Source).
Many people move to Singapore for business reasons—they see the massive job opportunities created by growth that the country has to offer. However, the actual average salaries between the two countries are almost equal.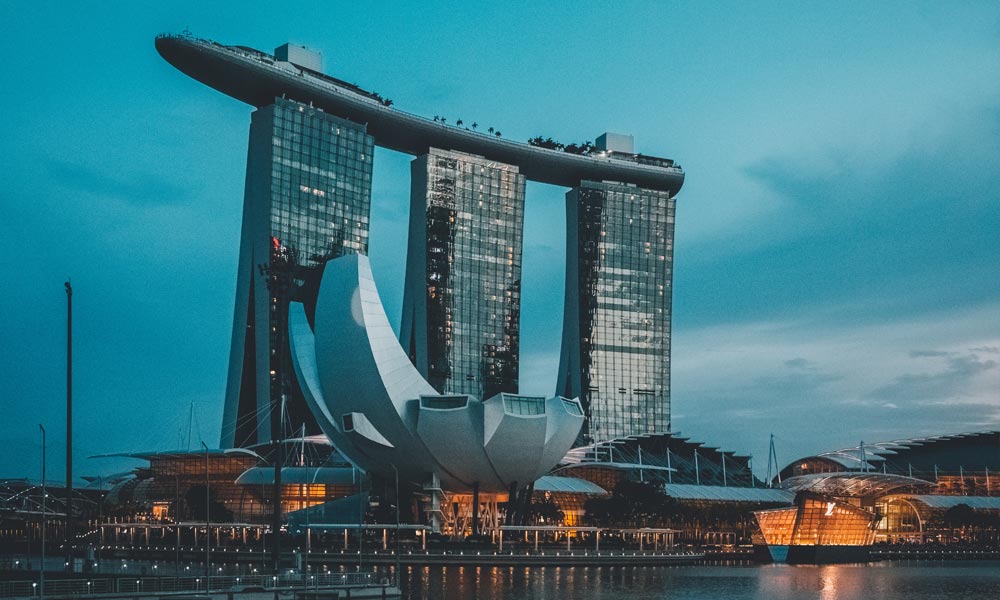 Healthcare
Singapore's healthcare system was ranked as the 6th best in the world by the WHO in 2000. It has a universal healthcare system with the principle that no services are provided free of charge—this prevents overuse. But, all services are highly affordable.
Education
Singapore's education system is world-renown for its high results. Singapore spends 20% of its total budget on education. Curriculums and teaching methods are highly structured and combine Eastern and Western methods. This accounts for their high performance but also the high degree of discipline in classrooms, the culture that values education and grading from a young age.
Top Tips For Moving To Singapore
Prepare to get wet in monsoon season
Be aware of and abide by their comprehensive laws with quite steep penalties e.g.

No selling gum
No feeding pigeons
No jaywalking
Bungee jumping is illegal
Carrying a bible or talking about Jesus is illegal
It is illegal to speak to a donkey in Chinese