If you are considering moving to the United Arab Emirates, our guide below will attempt to help with the logistics of such a move no matter what your reasons. No matter what the reasons, the below guide is a must read for understanding and navigating your way around new terrain (which is 90% desert by the way).
Overview
When moving to the UAE, you find yourself in one of the seven states (or emirates), which were formerly independent sheikdoms. What's a sheikdom? It's basically a kingdom run by Sheiks.
The seven states / emirates are Abu Dhabi, Dubai, Sharjah, Ajman, Umm Al-Qaiwain, Ras Al-Khaimah or Fujairah.
The UAE is a thriving part of the world that is playing an increasingly significant role in both international business and tourism.
In some countries within the region, such as Dubai and Abu Dhabi significant investment has been made into the infrastructure and opulent skyscrapers and hotels now characterize these areas.
The United Arab Emirates As An Expat Destination
The UAE has a very significant expat community, so much so that it makes up for almost 50% of the total population. Of the people living in the UAE, the vast majority (95%) are Muslim.
Most expats are drawn here as a result of the tax-free lifestyle on offer and for those on an international wage the standard of living is very high. Private education facilities, fantastic shopping and numerous entertainment options make this an interesting and enjoyable place in which to raise your family.
List Of The Top United Arab Emirates Cities To Move To
Dubai
Abu Dhabi
Sharjah
Al Ain
Ajman
Ras Al Khaimah
Fujairah
Umm al-Quwain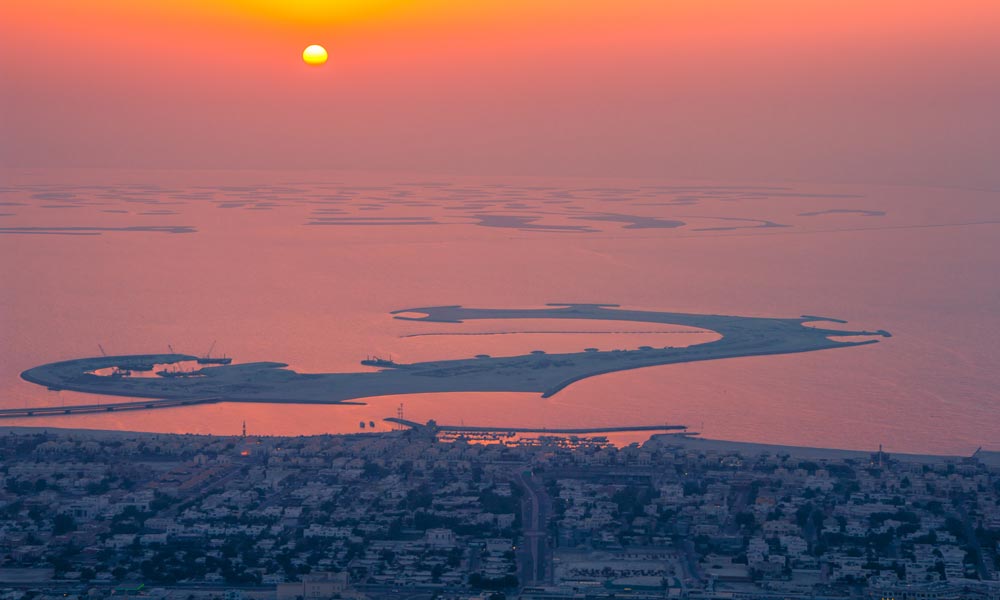 Cost Of Living
Last year saw a dramatic decrease in the cost of living in many cities in the UAE.
One of the biggest benefits you will receive when moving to Abu Dhabi or Dubai is the low taxation. This has a positive impact on the cost of several items including vehicles, electronic goods and local produce.
Utilities are also slightly cheaper here than they are in many countries because of government subsidies on electricity, water and gas.
As with many cities, accommodation will represent the biggest cost that expatriates face but they are decreasing. Expatriates living in the UAE who search out luxury goods or international brand names will also need to be prepared to pay higher prices for those items.
Language
The official language of the UAE is Arabic but English is widely spoken and the majority of expats living in the UAE do not experience any difficulties communicating with the locals.
Climate
Sub-tropical and arid. Temperatures range from over 50 degrees C in summer (April to September) through to -15 degrees in the evenings. Sand storms occasionally occur but nothing to worry about.
Expat Job And Career Opportunities
In recent years, through a program that is known as Emiratisation, the UAE government has placed significant pressure of companies to assist them to reduce unemployment amongst nationals.
This has led to a reduction in opportunities for foreign workers and it can be very difficult to secure work. The majority of expats who are based here are on international contracts that were secured whilst in their home countries.
Healthcare
You need to apply and obtain an Emirates ID card (issued by the Emirates Identity Authority) to get medical and healthcare services in the UAE.
In Abu Dhabi, employers and sponsors are responsible for the providing health insurance coverage for their employees and their families (1 spouse and 3 children under 18 years).
In Dubai, employers are required to provide health insurance coverage for their employees. Sponsors are required to get insurance cover for their family or dependents.
Education
The existing educational structure is a four-tier system covering 14 years of education.
Kindergarten – Age level from: 4 to 5 years' old
Primary – Age level from: 6 to 12
Preparatory – Age level from: 12 to 15
Secondary Age level from: 15 to 18.
Schools usually begin their academic year in September and operate in two or three terms. All schools are closed in July and August.
The medium of instruction in public schools is Arabic, with English used for some science and technical subjects.
Education is free for citizens at government institutes up to the university level and compulsory for students between the ages of 6 and 12. Non-UAE nationals may attend government schools as fee-paying students.
Fees in private schools are regulated by educational councils and zones in each emirate.
Visit www.moe.gov.ae for pricing and zones near you.
7 tips for relocating to the UAE
In the emirate of Sharjah, NO alcohol at all is permitted
Many rental accommodation contracts are for at least one year and many landlords will request that the full year's rent is paid in advance. If you leave the country before the end of the year, the likelihood is that you will not get the money back.
If anyone in the UAE requests to keep your passport, e.g. a hotel or your company, you should always say no. They don't have the authority by law to keep possession of your passport
Live within your means. Research has indicated this is the biggest issue with many Australians trying to "Keep up with the Jones"
Prepare yourself. Do the research
Budget between $6,000 and $7,000 for your international relocation and allow 5 weeks for your goods to be customs cleared and delivered
Take your time selecting the right employer. There is a lack of information on companies in the UAE and external recruiters especially, tend to oversell the group they represent.