Whether you're relocating locally, interstate or overseas, you are most likely going to require a shipping container to send and/or store your households. As a matter of fact, shipping containers are the most important components of your move, after your belongings of course.
Shipping containers come in varied sizes with often the option to buy your own container, especially for international relocations. When it comes to making a choice about a solution for your needs, it's not always obvious.
In this blog post, we will guide you through the benefits of both options and we will answer the question: should I hire or buy a shipping container?
What is a Shipping Container?
Just before comparing both options, let's define what exactly a shipping container is.
Shipping containers (or intermodal containers) are standardised containers specifically made for goods transportation. Not to mention that they can be used across a variety of shipping modes including truck, rail, air and cargo shipments. For their quality, security and ease of transport, containers are very popular across many industries including moving companies. Today, there are about 20 million shipping containers around the world. At Palmers Relocation we handle more than 10,000 shipping containers every year.
General Advantages of Shipping Containers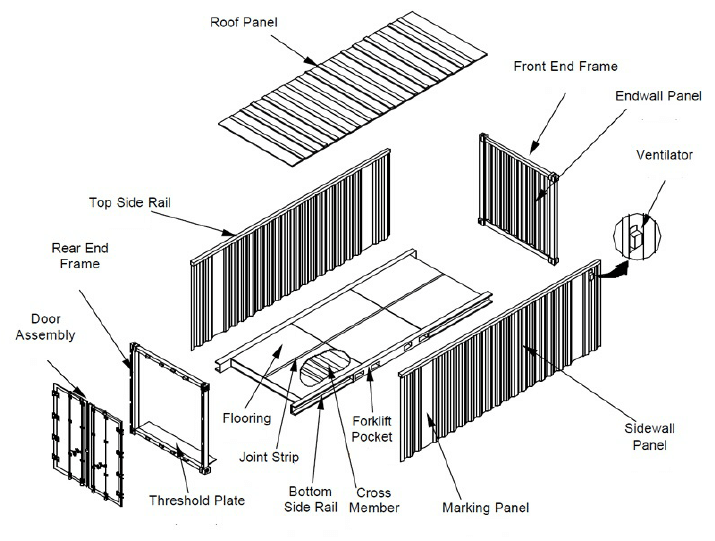 Source: CONTAINER ARCHITECTURE IN THE HOT-HUMID TROPICS: POTENTIAL AND CONSTRAINTS – Scientific Figure on ResearchGate. Available from: https://www.researchgate.net/figure/Typical-Shipping-Container-Exploded-View-Source-18_fig1_278021414
Regardless of whether you decide to rent or buy a shipping container, they have common characteristics.
Shipping Containers are Durable
The purpose of shipping containers is to carry from point A to B your belongings and to keep them safe. To do so, shipping containers are built from corten steel (also known as weathering steel), which makes them very durable and strong enough to last decades.
Shipping Containers are Standardised
No matter where you buy or rent your shipping container, you can be assured to always get the same specifications: size, weight and quality. It's what we call ISO (International Organization for Standardization) standard.
Shipping Containers are Convenient to Transport
ISO standard products guarantee that regardless of the method your container is shipped, all parties involved from moving companies to cargo companies will be able to handle it all around the world.
Shipping Containers are Safe and Secure
They are safe because they are made to be resistant and durable. So your goods are protected all along the way to your new home. Shipping containers are also secure, in that contents are not known by the carriers. Besides, they are sealed at the origin and only opened by you and/or customs once they reach their final destination.
Reasons to Buy a Shipping Container
Buying your shipping container is an investment and it comes with excellent advantages. Let's look at in more details some reasons you should buy a shipping container.
Containers vary in cost. A second hand 20ft container is priced depending on the condition between $2,500 and $3,500 and a new one is approximately $5,000.
A 40ft will normally set you back approximately $3,500 to $4,500 for a second-hand unit and $6,500 for a new one.
As opposed to utilising your moving companies container or shipping lines for export relocations, buying a shipping container is the preferred choice when you plan to use it more than once. An example of this is storage at your final destination.
In fact, buying a shipping container is the best option if you plan to use it as a long term storage solution (and can also work for a short period). Added to that the shipping container is yours, you can resell it when you no longer require it. Just like vehicles, there is a market for second-hand shipping containers. However, unlike vehicles, there is very little devaluation….. In other words, you can sell your container at an acceptable price even if you own it for months or years.
Which Option Is The Best For You?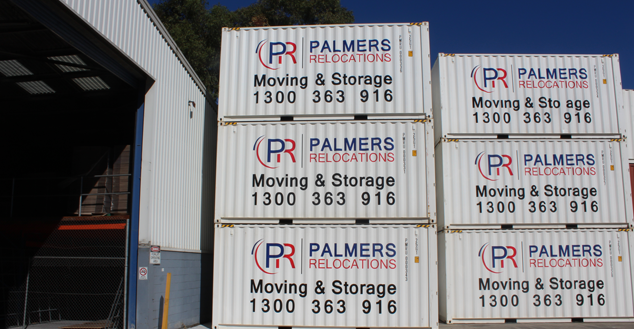 It all comes down to cost ultimately and use. Will you use a shipping container once or multiple times? As a general rule, it is best to just use/rent a shipping container if you are moving within Australia. This varies if you are going to rural property of course, but generally, it is best to use the hire container provided by your removal company.
For international relocations, the same rule applies. If you will get used and have the space to store your own container it can often be a good investment with containers often being sold at a higher price at your final destination. You do however also need to consider transportation costs as well because only specific vehicles with cranes can normally deliver or collect fully loaded containers.
At Palmers Relocations our team can help you in choosing the best option. Contact us today and we will answer all your questions about buying or renting a shipping container for your next move.