5 Hot Tips To Make Moving House Stress-Free
If you've experienced the turbulence that accompanies a disorganised move like most of us, you'll know that a bit of planning goes a long way. So whether you're moving house in the next few days or months, we've compiled some helpful tips below to help make the experience as smooth as possible.
1. Decide what needs to stay, and what needs to go
This is the most logical and most challenging task as we tend to keep items for "just in case" situations. So how can you decide what gets the cut, particularly if you're pressed for time?
If that table or bed frame has been sitting in the garage for years waiting to be fixed, chances are it's better to cut them loose now than go to the trouble of taking them with you. If you haven't worn specific clothing or used home décor in the past year and have barely noticed, they need to go. It will reduce the volume of items you need to move and, accordingly, the cost.  Many possessions can be sold online, given to thrift stores, family members, friends or charitable organisations, so don't feel too sad about parting with them. These items will bring value to someone else.
If you have time before moving, one technique we've found works well for clothes is turning all your hangers one way and only turning them back the other way if you use that item. If you do this for some time, you will know exactly which clothes you aren't wearing anymore. If you're torn about particular things that won't fit in your new place, consider short-term storage facilities where your possessions can be safely stored and decide after the move.
2. Find Some Boxes and Start Packing
Even if your new place is only a few streets away, you'll need to source yourself some packing boxes. You never realise the sheer amount of stuff you own until you have to move it all. If you don't already have some boxes, a nearby supermarket or a friend can grab some for you. Removalists like Palmers Relocations also offer packing and wrapping materials that meet industry standards and are designed for specific items – like books, artwork, bikes, TV and more to ensure the safety of your personal effects and are environmentally sustainable. If you choose a relocation company for your move, they can deliver packing materials directly to your door, and you can take care of the rest or allow the removalists to do the packing for you. Removalists move thousands of families every year and have developed standards and procedures to make the process smooth and efficient. If you decide to pack your personal effects yourself, organise your box by room (or by category, if you're moving into a share house), and clearly label the contents on the side of the box. It will make the organisation of the packages easier in your new place.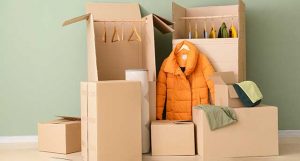 3. Organise Moving Day
Extra pairs of hands are a necessity when it comes to D-Day. With packing at one end and unpacking at the other, the work is made much easier (and much more fun) with friends helping out. And the lunch after moving always tastes different. However, sometimes circumstances can change, and a friend has to cancel or change the day; therefore, get in touch a week before to confirm the plans and, if necessary, prepare a plan B.
Short on time, or have too many heavy objects to move? Sometimes friends aren't enough, and it can pay to book yourself some trustworthy movers who can save you time and energy and give you peace of mind in moving your household effects safely. For example, if you own a piano, it's best to employ the services of specialist piano removalists to ensure that it stays in excellent condition when being moved from point A to point B.
4. Decide On Your Delivery Options
Do you or a friend own a truck or ute? You're in luck. Depending on how close your new place is, it might be quite economical to make several trips over the day. Otherwise, if you've got quite a distance to travel, it's probably better to hire yourself a removals truck and get it all done in one go.
If you feel confident enough, you can drive the truck yourself, or you can spring a little extra to get the professionals to do it. If you've chosen the professional option in each step, great deals will be available that help you through each step of the moving process. This might be your best bet if you're daunted by the prospect of a first move, or if you're a seasoned mover who simply can't bear to face the whole process again. Most removals companies offer an array of services to help you with every element of moving and some offer such a wide degree of scaled services that you will be able to relax and enjoy the moving process while removalists provide the full door-to-door moving process as well as exit cleaning,  valet unpacking service and more.
5. In Limbo? Store Your Things Safely
If your old lease is up and you haven't found a new one that lines up perfectly or you've sold your old house and are moving into a rental, for now, don't stress. It can seem like a nightmare to be crashing at a family or friend's place for a week or two and having to move all your things with you, but it doesn't have to be. There are storage options in prime locations around Sydney, Melbourne or other cities around Australia,  so you can store your things safely until you're able to move them to their new location. Self-storage units offer you the ability to access the storage whenever you want or need something and are only restricted by location, while the container storage option allows you to pack and store your items at your location and store them without multiple handling. Once you have found your new home, your container will be delivered to you. These storage options are secure and safe from water and weather damage. Either move your possessions there with some friends or enquire with the company about their removal and delivery options.
With some planning and foresight, moving can be a manageable and smooth transition.
Did these tips help you? Got any pearls of moving wisdom that you don't see here? Head over to our Facebook page and share your thoughts with us!